Assoc. Prof. Mangesh Bhide, DVM, PhD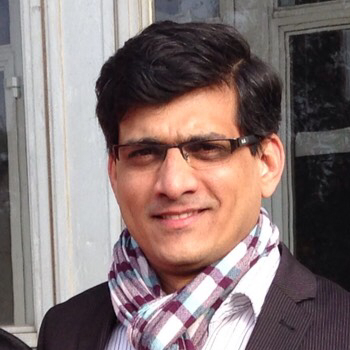 The history
The Laboratory of Biomedical Microbiology and Immunology (LBMI) was established in 1996, on the 15th of March. Two organizations, the University of veterinary medicine and pharmacy in Košice and the Institute of Neuroimmunology, Slovak Academy of Sciences, came together with a common goal – "establishment of a sophisticated research unit in the field of host-neuropathogen interactions".
The present
Since its foundation, the LBMI is assuring excellence in research and education. The research activities of the LBMI have focused on exploring host-pathogen interactions of neuroinvasive human pathogens like Borrelia burgdorferi, Neisseria meningitidis, Streptococcus pneumoniae, Franciscella Sp., West Nile virus and tick-borne encephalitis virus and to intervene in their early pathogenesis. The agenda includes a broad range of highly specialized and specific research activities like: a) exploration of transcriptomic and proteomic response of host cells (forming the neurovascular unit) at the onset of pathogen attachment and entry, b) Identification of specific receptors and mapping of domains involved in ligand binding, c) Engineering of single-domain antibodies (sdAbs) that can cross the blood-brain barrier and recognize pathogen receptors, and d) development of antimicrobial peptides. Furthermore, as a responsible contribution to the worldwide SARS-COV2 (COVID 19) pandemic, LBMI has initiated work Slovak National project (APVV) on COVID 19 to reveal molecular interaction between COVID19 and cell receptors, and the development of nanobody based therapeutics to interfere with virus uptake.
We employ state of the art techniques at LBMI viz. next-generation sequencing RNAseq, high-throughput proteomics involving mass spectrometry-based bottom-up and top-down approach, mutation detection techniques, high resolution melting (HRM) assays, direct DNA sequencing, quantitative real-time PCR, transfection techniques, in vitro recombinant protein design and production, protein-protein interaction assays, phage display, affinity ligand binding, pull-down assays and a 3D cell culture model of the human blood-brain barrier (BBB).
The main research topics of LBMI:
interactions between neuropathogens and the blood-brain barrier
proteomic aspects of neuropathogen:blood-brain barrier interactions
development of domain-specific antibodies against Borrelia, Francisella, Neisseria and Streptococci
Publications
Čurlík, J; Lazár, P; Iglódyová, A; Barbušinová, E; Šmiga, Ľ; Novotný, J; Mojžišová, J; Ondrejková, A; Hromada, R; Konjević, D Detection of Mycobacterium avium subsp. paratuberculosis in Slovakian wildlife Polish Journal of Veterinary Sciences 529-535 2020 Polish Academy of Sciences. Full paper here
Kulkarni, Amod; Mochnáčová, Evelína; Majerova, Petra; Čurlík, Ján; Bhide, Katarína; Mertinková, Patrícia; Bhide, Mangesh; Single Domain Antibodies Targeting Receptor Binding Pockets of NadA Restrain Adhesion of Neisseria meningitidis to Human Brain Microvascular Endothelial Cells Frontiers in molecular biosciences 7 452 2020 Frontiers Full paper here
Tkáčová, Zuzana; Pulzová, Lucia Borszéková; Mochnáčová, Evelína; Jiménez-Munguía, Irene; Bhide, Katarína; Mertinková, Patrícia; Majerová, Petra; Kulkarni, Amod; Kováč, Andrej; Bhide, Mangesh; Identification of the proteins of Borrelia garinii interacting with human brain microvascular endothelial cells, Ticks and tick-borne diseases, 11, 4, 101451, 2020 full paper here
Tkáčiková, Ľudmila; Mochnáčová, Evelína; Tyagi, Punit; Kiššová, Zuzana; Bhide, Mangesh; Comprehensive mapping of the cell response to E. coli infection in porcine intestinal epithelial cells pretreated with exopolysaccharide derived from Lactobacillus reuteri Veterinary research, 51, Jan-13 2020 full paper here
Mertinková, Patrícia; Kulkarni, Amod; Káňová, Evelína; Bhide, Katarína; Tkáčová, Zuzana; Bhide, Mangesh; A simple and rapid pipeline for identification of receptor-binding sites on the surface proteins of pathogens Scientific reports, 10,1 Jan-13, 2020, Nature Publishing Group Full paper here
Káňová, Evelína; Tkáčová, Zuzana; Bhide, Katarína; Kulkarni, Amod; Jiménez-Munguía, Irene; Mertinková, Patrícia; Drážovská, Monika; Tyagi, Punit; Bhide, Mangesh; Transcriptome analysis of human brain microvascular endothelial cells response to Neisseria meningitidis and its antigen MafA using RNA-seq, Scientific reports, 9, 1 Jan-16, 2019, Nature Publishing Group.Full paper here
Marques, Andreia Tomás; Anjo, Sandra I; Bhide, Mangesh; Coelho, Ana Varela; Manadas, Bruno; Lecchi, Cristina; Grilli, Guido; Ceciliani, Fabrizio; Changes in the intestinal mucosal proteome of turkeys (Meleagris gallopavo) infected with haemorrhagic enteritis virus Veterinary immunology and immunopathology, 213, 109880, 2019. Full paper here
Patel, Deepti M; Bhide, Katarina; Bhide, Mangesh; Iversen, Martin H; Brinchmann, Monica F; Proteomic and structural differences in lumpfish skin among the dorsal, caudal and ventral regions Scientific reports, 9, 1 Jan-13, 2019, Nature Publishing Group Full paper here
Simon, Ádám; Gulyás, Gabriella; Mészár, Zoltán; Bhide, Mangesh; Oláh, János; Bai, Péter; Csősz, Éva; Jávor, András; Komlósi, István; Remenyik, Judit; Proteomics alterations in chicken jejunum caused by 24 h fasting PeerJ, 7,e6588, 2019 Full paper here
Kánová, Evelína; Jiménez-Munguía, Irene; Majerová, Petra; Tkáčová, Zuzana; Bhide, Katarína; Mertinková, Patrícia; Pulzová, Lucia; Kováč, Andrej; Bhide, Mangesh; Deciphering the interactome of Neisseria meningitidis with human brain microvascular endothelial cells Frontiers in microbiology 9, 2294, 2018 Full paper here
Bencurova, Elena; Gupta, Shishir K; Oskoueian, Ehsan; Bhide, Mangesh; Dandekar, Thomas; Omics and bioinformatics applied to vaccine development against Borrelia Molecular omics 14, 5, 330-340, 2018, Royal Society of Chemistry Full paper here
Gadher, Suresh; Bhide, Mangesh; Kovarova, Hana; Pursuit of proteomic excellence and the excitement in Košice, Slovakia, at the 11th Central and Eastern European Proteomic Conference (CEEPC), Expert review of proteomics,15,5,367-369,2018. Full paper here
Irene Jiménez-Munguía, Lucia Pulzova, Evelina Kanova, Zuzana Tomeckova, Petra Majerova, Katarina Bhide, Lubos Comor, Ivana Sirochmanova, Andrej Kovac, Mangesh Bhide. Proteomic and bioinformatic pipeline to screen the ligands of S. pneumoniae interacting with human brain microvascular endothelial cells.Scientific Reports 8 (1), 5231. Full paper here
A Horvatić, J Kuleš, N Guillemin, F Martinković, I Štimac, V Mrljak, M Bhide. Surface Proteome Biotinylation Combined with Bioinformatic Tools as a Strategy for Predicting Pathogen Interacting Proteins. Host-Pathogen Interactions, 83-96. Full paper here
A Michalicová, K Bhide, M Bhide, A Kováč. How viruses infiltrate the central nervous system. Acta virologica 61 (4), 393-400 Full paper here
E Schreterova, M Bhide, L Potocnakova, LB Pulzova. Design, construction and evaluation of multi-epitope antigens for diagnosis of Lyme disease. Ann Agric Environ Med 24 (4), 696-701 Full paper here
Lubos Comor, Saskia Dolinska, Katarina Bhide, Lucia Pulzova, Irene Jiménez-Munguía, Elena Bencurova, Zuzana Flachbartova, Lenka Potocnakova, Evelina Kanova, Mangesh Bhide. Joining the in vitro immunization of alpaca lymphocytes and phage display: rapid and cost effective pipeline for sdAb synthesis. Microbial Cell Factories201716:13 Full paper here
Peter Kesa, Mangesh Bhide, Veronika Lysakova, Andrey Musatov. Subunit analysis of mitochondrial cytochrome c oxidase and cytochrome bc 1 by reversed-phase high-performance liquid chromatography. Analytical Biochemistry 516, 6-8 Full paper here
Josipa Kuleš, Lenka Potocnakova, Katarina Bhide, Laura Tomassone, Hans-Peter Fuehrer, Anita Horvatić, Asier Galan, Nicolas Guillemin, Petra Nižić, Vladimir Mrljak, Mangesh Bhide. The Challenges and Advances in Diagnosis of Vector-Borne Diseases: Where Do We Stand? Vector-Borne and Zoonotic Diseases. Volume: 17 Issue 5: May 1, 2017 Full paper here
Mrljak Vladimir, Kuleš Josipa, Mihaljević Željko, Torti Marin, Gotić Jelena, Crnogaj Martina, Živičnjak Tatjana, Mayer Iva, Šmit Iva, Bhide Mangesh, and Barić Rafaj Renata. Vector-Borne and Zoonotic Diseases. Prevalence and Geographic Distribution of Vector-Borne Pathogens in Apparently Healthy Dogs in Croatia. Vector-Borne and Zoonotic Diseases Full paper here
Lenka Potocnakova, Mangesh Bhide, Lucia Borszekova Pulzova. An Introduction to B-Cell Epitope Mapping and In Silico Epitope Prediction. Journal of Immunology Research. Volume 2016 (2016), Article ID 6760830, 11 pages. Full paper here
Pulzova L, Flachbartova Z, Bencurova E, Potocnakova L, Comor L, Schreterova E, Bhide M. Identification of B-cell epitopes of Borrelia burgdorferi outer surface protein C by screening a phage-displayed gene fragment library. Microbiol Immunol. 2016 Sep 13. doi: 10.1111/1348-0421.12438
Csank T, Bhide K, Bencúrová E, Dolinská S, Drzewnioková P, Major P, Korytár Ľ, Bocková E, Bhide M, Pistl J. Detection of West Nile virus and tick-borne encephalitis virus in birds in Slovakia, using a universal primer set. Archives of virology 2016;161(6):1679-1683.
Fecková B, Kimáková P, Ilkovičová L, Szentpéteriová E, Debeljak N, Solárová Z, Sačková V, Šemeláková M, Bhide M, Solár P. Far-western blotting as a solution to the non-specificity of the anti-erythropoietin receptor antibody. Oncology Letters 2016;12(2):1575-1580.
Flachbartova Z, Pulzova L, Bencurova E, Potocnakova L, Comor L, Bednarikova Z, Bhide M. Inhibition of multidrug resistant Listeria monocytogenes by peptides isolated from combinatorial phage display libraries. Microbiological Research 2016;188:34-41.
Kuleš J, Horvatić A, Guillemin N, Galan A, Mrljak V, Bhide M. New approaches and omics tools for mining of vaccine candidates against vector-borne diseases. Molecular BioSystems 2016;12(9):2680-2694
Galan A, Comor L, Horvatić A, Guillemin N, Kuleš J, Mrljak V, Bhide M. Library-based display technologies: where do we stand? Molecular BioSystems 2016.
Guillemin N, Horvatić A, Kuleš J, Galan A, Mrljak V, Bhide M. Omics approaches to probe markers of disease resistance in animal sciences. Molecular BioSystems 2016.
Horvatić A, Kuleš J, Guillemin N, Galan A, Mrljak V, Bhide M. High-throughput proteomics and the fight against pathogens. Molecular BioSystems 2016.
Kreizinger Z, Bhide M, Bencurova E, Dolinska S, Gyuranecz M. Complement sensitivity and factor H binding of European Francisella tularensis ssp. holarctica strains in selected animal species. Acta Veterinaria Hungarica 2015;63(3):275-284.
Csank T, Bhide K, Bencúrová E, Dolinská S, Drzewnioková P, Major P, Korytár Ľ, Bocková E, Bhide M, Pistl J. Detection of West Nile virus and tick-borne encephalitis virus in birds in Slovakia, using a universal primer set. Archives of virology 2016;161(6):1679-1683.
Almeida A, Bassols A, Bendixen E, Bhide M, Ceciliani F, Cristobal S, Eckersall P, Hollung K, Lisacek F, Mazzucchelli G. Animal board invited review: advances in proteomics for animal and food sciences. animal 2015;9(01):1-17.
Bencurova E, Pulzova L, Flachbartova Z, Bhide M. A rapid and simple pipeline for synthesis of mRNA–ribosome–VHH complexes used in single-domain antibody ribosome display. Molecular BioSystems 2015a;11(6):1515-1524.
Bencurova E, Kovac A, Pulzova L, Gyuranecz M, Mlynarcik P, Mucha R, Vlachakis D, Kossida S, Flachbartova Z, Bhide M. Deciphering the protein interaction in adhesion of Francisella tularensis subsp. holarctica to the endothelial cells. Microbial pathogenesis 2015b;81:6-15.
Ferreira AM, Marques AT, Bhide M, Cubric-Curik V, Hollung K, Knight CH, Raundrup K, Lippolis J, Palmer M, Sales-Baptista E. Sequence Analysis of Bitter Taste Receptor Gene Repertoires in Different Ruminant Species. PloS one 2015;10(6):e0124933.
Flachbartova Z, Pulzova L, Bencurova E, Potocnakova L, Comor L, Bednarikova Z, Bhide M. Inhibition of multidrug resistant Listeria monocytogenes by peptides isolated from combinatorial phage display libraries. Microbiological Research 2016;188:34-41.
Madar M, Bencurova E, Mlynarcik P, Almeida AM, Soares R, Bhide K, Pulzova L, Kovac A, Coelho AV, Bhide M. Exploitation of complement regulatory proteins by Borrelia and Francisella. Molecular BioSystems 2015;11(6):1684-1695.
Mlynarcik P, Pulzova L, Bencurova E, Kovac A, Dominguez MA, Hresko S, Bhide MR. Deciphering the interface between a CD40 receptor and borrelial ligand OspA. Microbiological research 2015;170:51-60.
Vlachakis D, Bencurova E, Bhide M, Kossida S. Integrating bioinformatics tools to investigate protein phosphorylation: PeerJ PrePrints; 2015.
Vlachakis D, Bencurova E, Papageorgiou L, Bhide M, Kossida S. Protein phosphorylation prediction: limitations, merits and pitfalls. Journal of Molecular Biochemistry 2015;4(2).
Bhide M., Natarajan S, Hresko S, Aguilar C, Bencurova E (2014) Rapid in vitro protein synthesis pipeline: a promising tool for cost-effective protein array design, Molecular BioSystems 10 (6), 1236-1245.
Pulzova L, M. Bhide (2014) Outer surface proteins of Borrelia: peerless immune evasion tools. Current protein and peptide science. 15 (1), 75-88.
Kreizinger Z, Hornok S, Dán Á, Hresko S, Makrai L, Magyar T, M. Bhide, Erdélyi K, Hofmann-Lehmann R, Gyuranecz M (2013) Prevalence of Francisella tularensis and Francisella-Like Endosymbionts in the Tick Population of Hungary and the Genetic Variability of Francisella-Like Agents. Vector-Borne and Zoonotic Diseases 13: 160-163.
Ward TA, Dudášová Z, Sarkar S, M. Bhide, Vlasáková D, Chovanec M, McHugh PJ (2012) Components of a Fanconi-like pathway control Pso2-independent DNA interstrand crosslink repair in yeast. PLoS genetics 8: e1002884. Cited 10 times, Impact factor – 8.517
Pulzova L, Bencurova E, Mucha R, Mlynarcik P, Csank T, M. Bhide (2012) A possible role of ICAM-1 in OspA mediated borrelial adhesion to BMEC surface. International Journal of Infectious Diseases 16: 237.
Mlynarcik P, Bencurova E, Madar M, Mucha R, Pulzova L, Hresko S, M. Bhide (2012) Development of simple and rapid elution methods for proteins from various affinity beads for their direct MALDI-TOF downstream application. Journal of proteomics 75: 4529-4535.
Bhide M., Bhide K, Pulzova L, Madar M, Mlynarcik P, Bencurova E, Hresko S, Mucha R (2012) Variable regions in the sushi domains 6–7 and 19–20 of factor H in animals and human lead to change in the affinity to factor H binding protein of Borrelia. Journal of proteomics 75: 4520-4528.
Gyuranecz M, Reiczigel J, Krisztalovics K, Monse L, Szabóné GK, Szilágyi A, Szépe B, Makrai L, Magyar T, M. Bhide (2012) Factors Influencing Emergence of Tularemia, Hungary, 1984–2010. Emerging Infectious Diseases 18: 1379. Cited 1 times, Impact factor – 5.993
Bencurova E, Mlynarcik P, M. Bhide (2011) An insight into the ligand–receptor interactions involved in the translocation of pathogens across blood–brain barrier. FEMS Immunology & Medical Microbiology 63: 297-318.
Pulzova L, Kovac A, Mucha R, Mlynarcik P, Bencurova E, Madar M, Novak M, Bhide M (2011) OspA-CD40 dyad: ligand-receptor interaction in the translocation of neuroinvasive Borrelia across the blood-brain barrier. Scientific reports 1.
Kisova-Vargova, Lucia; Mucha, Rastislav; Cernanska, Dana; Bhide Mangesh (2011). Host-dependent differential expression of factor H binding proteins, their affinity to factor H and complement evasion by Lyme and relapsing fever borreliae. Veterinary microbiology: 148:2-4: 341-347. Cited 1 times, Impact factor – 3.327
Pilipčincová I, Bhide M, Dudriková E, Trávniček M (2010) Genotypic characterization of coagulase-negative staphylococci isolated from sheep milk in Slovakia. Acta Veterinaria Brno 79: 269-275. Cited 2 times, Impact factor – 0.534
Mikula I, Bhide M, Pastorekova S (2010) Characterization of ovine TLR7 and TLR8 protein coding regions, detection of mutations and Maedi Visna virus infection. Veterinary immunology and immunopathology 138: 51-59. Cited 10 times, Impact factor – 2.176
Bhide M, Escudero R, Camafeita E, Gil H, Jado I, Anda P (2009) Complement factor H binding by different Lyme disease and relapsing fever Borrelia in animals and human. BMC research notes 2: 134. Cited 12 times, Impact factor – 2.155
Bhide M, Mucha R, Mikula I, Kisova L, Skrabana R, Novak M (2009) Novel mutations in TLR genes cause hyporesponsiveness to Mycobacterium avium subsp. paratuberculosis infection. BMC genetics 10: 21. Cited 17 times, Impact factor – 2.23
Mucha R, Bhide M, Chakurkar E, Novak M, Mikula I (2009) Toll-like receptors TLR1, TLR2 and TLR4 gene mutations and natural resistance to Mycobacterium avium subsp. paratuberculosis infection in cattle. Veterinary immunology and immunopathology 128: 381-388. Cited 40 times, Impact factor – 1.963
Pulzova L, Bhide M, Andrej K (2009) Pathogen translocation across the blood–brain barrier. FEMS Immunology & Medical Microbiology 57: 203-213. Cited 12 times, Impact factor – 2.335
Bugos O; Bhide, M; Zilka, (2009) Beyond the Rat Models of Human Neurodegenerative Disorders Cellular and Molecular Neurobiology. 29:6-7: 859-869. Cited 10 times, Impact factor – 2.107
Bhide M, Yilmaz Z, Golcu E, Torun S, Mikula I (2008) Seroprevalence of anti-Borrelia burgdorferi antibodies in dogs and horses in Turkey. Annals of agricultural and environmental medicine: AAEM 15: 85-90. Cited 18 times, Impact factor – 1.443
Escudero R, Toledo A, Gil H, Kovácsová K, Rodríguez-Vargas M, Jado I, García-Amil C, Lobo B, Bhide M, Anda P (2008) Molecular method for discrimination between Francisella tularensis and Francisella-like endosymbionts. Journal of clinical microbiology 46: 3139-3143. Cited 14 times, Impact factor – 3.945
García-Esteban C, Gil H, Rodríguez-Vargas M, Gerrikagoitia X, Barandika J, Escudero R, Jado I, García-Amil C, Barral M, García-Pérez, M Bhide, Pedro Anda (2008) Molecular method for Bartonella species identification in clinical and environmental samples. Journal of clinical microbiology 46: 776-779. Cited 17 times, Impact factor – 3.945.
Bhide M, Chakurkar E, Tkacikova L, Barbuddhe S, Novak M, Mikula I (2006) IS900 PCR-based detection and characterization of Mycobacterium avium subsp. paratuberculosis from buffy coat of cattle and sheep. Veterinary microbiology 112: 33-41. Cited 27 times, Impact factor – 2.370
Dmitriev A, Bhide M, Mikula I (2006) cpn60 gene-based multiplex-PCR assay for simultaneous identification of Streptococcal species. Acta Veterinaria Brno 75: 235-240. Cited 5 times, Impact factor – 0.403
Kováčová E, Sekeyova Z, Trávniček M, Bhide M, mardzinova s, čurlik j, španelová d (2006) Monitoring of humans and animals for the presence of various Rickettsiae and Coxiella burnetii by serological methods. Annals of the New York Academy of Sciences 1078: 587-589. Cited 5 times, Impact factor – 2.303
Świderek W, Bhide M, Gruszczyńska J, Soltis K, Witkowska D, Mikula I (2006) Toll-like receptor gene polymorphism and its relationship with somatic cell concentration and natural bacterial infections of the mammary gland in sheep. Folia microbiologica 51: 647-652. Cited 6 times, Impact factor – 1.172
Tkáčiková Ľ, Bhide M, Imrichová D, Mikula Sr I (2006) The analysis of prion protein gene polymorphism in Slovakian white shorthaired goats. Folia Veterinaria 50: 146-150. Cited 1 times, Impact factor – 0.545
Bhide M, Travnicek M, Levkutova M, Curlik J, Revajova V, Levkut M (2005) Sensitivity of Borrelia genospecies to serum complement from different animals and human: a host–pathogen relationship. FEMS Immunology & Medical Microbiology 43: 165-172. Cited 28 times, Impact factor – 2.243
Tkáčiková Ľ, Bhide M., Mikula I (2005) Asymmetric PCR-SSCP: a useful tool for detection of OLA-DRB1 (MHC Class II) gene polymorphism in Slovak Improved Valachian sheep. Acta Veterinaria Brno 74: 275. Cited 2 times, Impact factor – 0.415
Tkacikova L, Rolková G, Bires J, Novak P, Kontsekova E, Imrichova D, Bhide M, Hanusovska E, Mikula I, Novak M (2005) PrP gene polymorphism in sheep breeds in Slovakia and susceptibility to scrapie. Acta virologica 50: 257-261. Cited 2 times, Impact factor – 0.81
Bhide M., Travnicek M, Curlik A, Stefancikova A (2004) The importance of dogs in eco-epidemiology of Lyme borreliosis: a review. Veterinarni Medicina 49. Cited 9 times, Impact factor – 0.659
Bhide M, Curlik J, Travnicek M, Lazar P (2004) Protein A/G dependent ELISA a promising diagnostic tool in Lyme disease seroprevalence in game animals and hunting dogs. Comparative immunology, microbiology and infectious diseases 27: 191-199. Cited 9 times, Impact factor – 2.921
Marcinak,S; Sokol,J; Bystricky,P; Popelka,P; Turek,P; Bhide, M; Mate, D. (2004) Determination of lipid oxidation level in broiler meat by liquid Chromatography. Journal of AOAC international, 87 (5): 1148-1152. Cited 13 times, Impact factor – 1.322
Stefancikova, A; Bhide, M; Pet'ko, B; et al. (2004) Anti-Borrelia antibodies in rodents: Important hosts in ecology of Lyme disease. Annals of agricultural and environmental medicine. 11: 2: 209-213. Cited 7 times, Impact factor – 2.022
Travnicek M, Stefancikova A, Nadzamova D, Stanko M, Cislakova L, Pet'ko B, Mardzinová S, Bhide M (2003) Immunoglobulin G antibodies to Borrelia burgdorferi in game animals and small mammals in eastern Slovakia. Revue scientifique et technique-Office international des épizooties 22: 1035-1041. Cited 4 times, Impact factor – 1.238
Travnicek M, Stefancikova A, Nadzamova D, Stanko M, Cislakova L, Pet'ko B, Mardzinova S, Bhide M (2002) Seroprevalence of anti-Borrelia burgdorferi antibodies in sheep and goats from mountainous areas of Slovakia. Annals of agricultural and environmental medicine: AAEM 9: 153. Cited 6 times, Impact factor – 2.111
Travnicek M, Cislakova L, Deptuła W, Stosik M, Bhide M (2002) Wild pigeons and pheasants- a source of Chlamydophila psittaci for humans and animals. Annals of agricultural and environmental medicine: AAEM 9: 253. Cited 13 times, Impact factor – 2.111
Travnicek M, Kovacova D, Bhide M, Zubricky P, Cislakova L (2002) Field evaluation of an iELISA and CF test for detection of IgG antibodies against Chlamydophila abortus in goats, sheep and rams. Veterinary Medicina- 47: 195-198. Cited 2 times, Impact factor – 0.635
Travniček M, Kováčová D, Bhide M, Zubrický P, Čisláková L (2003) Detection of IgG antibodies against Chlamydophila abortus in sheep with reproductive disorders. Acta Veterinaria Brno 72: 95. Cited 5 times, Impact factor – 0.514
Bhide M, Paturkar A, Sherikar A, Waskar V (2001) Presensitization of microorganisms by acid treatments to low dose gamma irradiation with special reference to Bacillus cereus. Meat science 58: 253-258. Cited 32 times, Impact factor – 2.223