Tomáš Smolek, DVM, PhD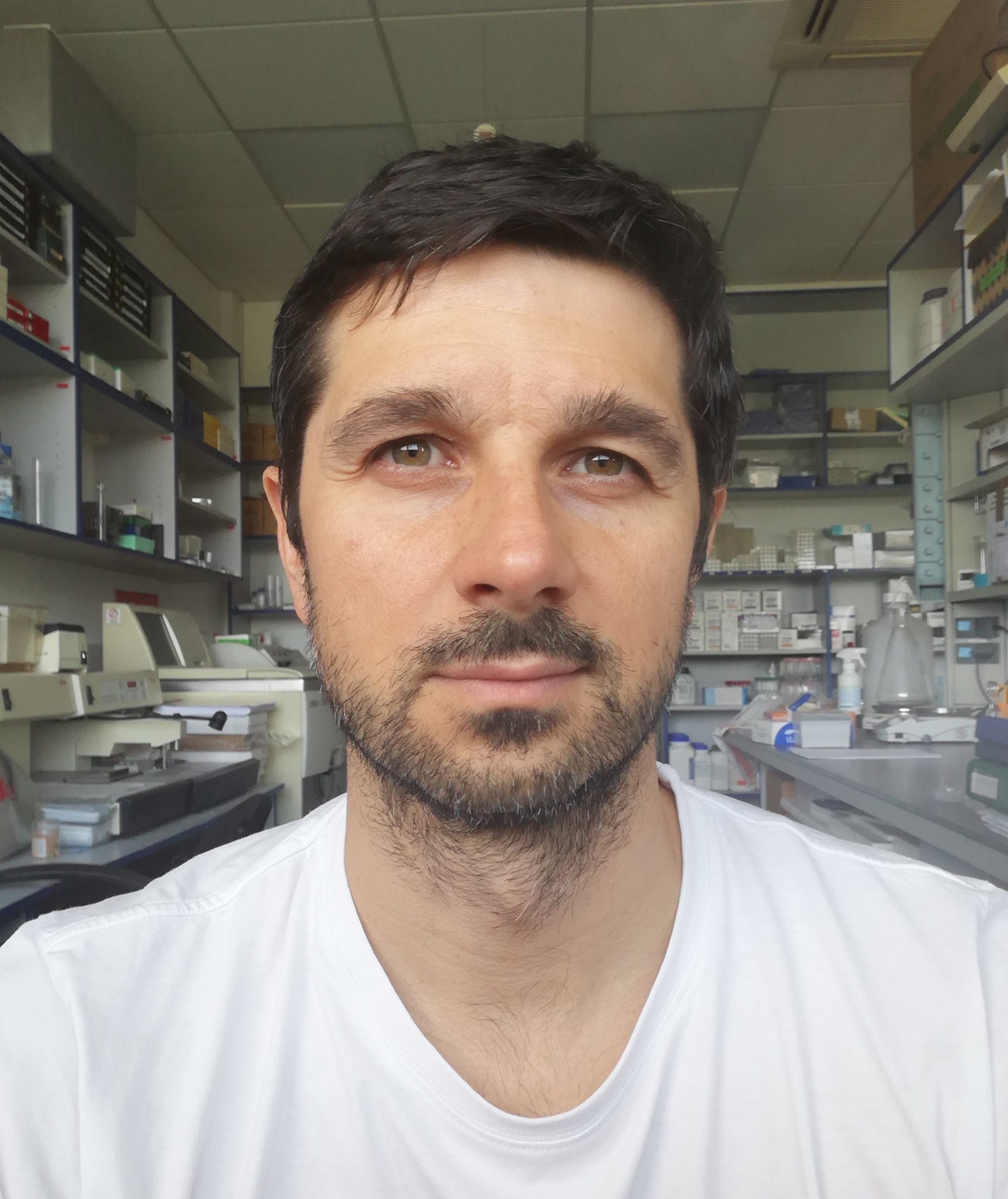 The main research focus is on tau protein which may induce neurofibrillary pathology and can spread throughout the brain. Tau protein is the main cause and driver of neurofibrillary degeneration in human Alzheimer's disease. Tau proteome in AD is composed of a plethora of different tau species. Some of them display infectious properties. Using proteomic and immunological approaches we aim to identify tau forms that are able to induce and spread tau pathology in the brain of experimental animals.
In collaboration with MEMORY Centre we are creating the first cohort of Alzheimer´s disease patients. We also coordinate the harmonisation process of modern diagnostics of human dementia. We transfer new molecular biomarkers into clinical practice and thus improve diagnostic accuracy.
We participate in JPND international project "A premotor disease signature for ALS" (2022-2025), which aims to develop a clinico-molecular fingerprint of premotor gene mutation carriers that will shed light on the molecular pathogenesis of ALS and allow for a timelier diagnosis. The fingerprint will improve diagnostic accuracy, but also yield information about molecular and pathophysiological causes driving ALS. The institute is the national coordinator for the Slovak republic.
Further, our team is the leading force in the study of the molecular mechanism of canine dementia. In 2017, we published the book "Canine and feline dementia" (Springer, editors Gary Landsberg, Aladar Madari, Norbert Zilka) which deeply focused on the epidemiology diagnostics therapy and molecular basis of canine and feline dementia or cognitive dysfunction syndrome. We described the risk factors for canine cognitive dysfunction syndrome in Slovakia, synaptic impairment and neuroinflammation associated with canine cognitive impairment. Furthermore, we demonstrated that brain injury biomarker (neurofilament light chain) and biochemical parameters in blood serum may predict canine cognitive impairment in aged dogs
Lab members
Petr Novák, MD, PhD
Zuzana Vince Kážmerová, PhD
Neha Basheer (PhD student)
Muhammad Khalid Muhammadi (PhD student)
Martin Szabo (technician)
Jozef Végh (technician)
Projects – funding
Longitudinal Assessment of Neurodegeneration and the Correlates of Relevant Endpoints in AD
APVV-20-0447
Duration: 2021 – 2024
…………
Molecular biomarkers for canine brain disorders – Monitoring of the brain regeneration and efficacy of treatment
APVV-18-0515
Duration: 2019 – 2022
…………
The model of cell communication between nervous and immune system in Alzheimer's disease
APVV-14-0872
Duration: 2015 – 2018
…………
Pathway complexities of protein misfolding in neurodegenerative diseases: a novel approach to risk evaluation and model development (REfraAME)
H2020 JPND
Duration: 2016 – 2019
…………
Alzheimer's disease data-driven insights on individual outcomes of importance
H2020 JPND
Trvanie projektu: 2019 – 2022
…………
A premotor disease signature for ALS
H2020 JPND
Duration: 2022 – 2025
Selected Publications
Stozicka Z, Korenova M, Uhrinova I, Cubinkova V, Cente M, Kovacech B, Babindakova N, Matyasova K, Vargova G, Novak M, Novak P, Zilka N, Jadhav S. Environmental Enrichment Rescues Functional Deficit and Alters Neuroinflammation in a Transgenic Model of Tauopathy. J Alzheimers Dis. 2020;74(3):951-964.
Vogels T, Leuzy A, Cicognola C, Ashton NJ, Smolek T, Novak M, Blennow K, Zetterberg H, Hromadka T, Zilka N, Schöll M. Propagation of Tau Pathology: Integrating Insights From Postmortem and In Vivo Studies. Biol Psychiatry. 2020 May 1;87(9):808-818.
Smolek T, Cubinkova V, Brezovakova V, Valachova B, Szalay P, Zilka N, Jadhav S. Genetic Background Influences the Propagation of Tau Pathology in Transgenic Rodent Models of Tauopathy. Front Aging Neurosci. 2019 Dec 11;11:343.
Jadhav S, Avila J, Schöll M, Kovacs GG, Kövari E, Skrabana R, Evans LD, Kontsekova E, Malawska B, de Silva R, Buee L, Zilka N. A walk through tau therapeutic strategies. Acta Neuropathol Commun. 2019 Feb 15;7(1):22.
Smolek T, Jadhav S, Brezovakova V, Cubinkova V, Valachova B, Novak P, Zilka N. First-in-Rat Study of Human Alzheimer's Disease Tau Propagation. Mol Neurobiol. 2019 Jan;56(1):621-631.
Novak P, Kontsekova E, Zilka N, Novak M. Ten Years of Tau-Targeted Immunotherapy: The Path Walked and the Roads Ahead. Front Neurosci. 2018 Nov 2;12:798.
Sutovsky S, Smolek T, Alafuzoff I, Blaho A, Parrak V, Turcani P, Palkovic M, Petrovic R, Novak M, Zilka N. Atypical Huntington's disease with the clinical presentation of behavioural variant of frontotemporal dementia. J Neural Transm (Vienna). 2016 Jun 10
Lelental N, Brandner S, Kofanova O, Blennow K, Zetterberg H, Andreasson U, Engelborghs S, Mroczko B, Gabryelewicz T, Teunissen C, Mollenhauer B, Parnetti L, Chiasserini D, Molinuevo JL, Perret-Liaudet A, Verbeek MM, Andreasen N, Brosseron F, Bahl JM, Herukka SK, Hausner L, Frölich L, Labonte A, Poirier J, Miller AM, Zilka N, Kovacech B, Urbani A, Suardi S, Oliveira C, Baldeiras I, Dubois B, Rot U, Lehmann S, Skinningsrud A, Betsou F, Wiltfang J, Gkatzima O, Winblad B, Buchfelder M, Kornhuber J, Lewczuk P. Comparison of Different Matrices as Potential Quality Control Samples for Neurochemical Dementia Diagnostics. J Alzheimers Dis. 2016 Mar 1. [Epub ahead of print]
Katina S, Farbakova J, Madari A, Novak M, Zilka N. Risk factors for canine cognitive dysfunction syndrome in Slovakia. Acta Vet Scand. 2016 Feb 29;58(1):17.
Smolek T, Madari A, Farbakova J, Kandrac O, Jadhav S, Cente M, Brezovakova V, Novak M, Zilka N.Tau hyperphosphorylation in synaptosomes and neuroinflammation are associated with canine cognitive impairment. J Comp Neurol. 2016 Mar 1;524(4):874-95.
Kruse N, Persson S, Alcolea D, Bahl JM, Baldeiras I, Capello E, Chiasserini D, Bocchio Chiavetto L, Emersic A, Engelborghs S, Eren E, Fladby T, Frisoni G, García-Ayllón MS, Genc S, Gkatzima O, Heegaard NH, Janeiro AM, Kováčech B, Kuiperij HB, Leitão MJ, Lleó A, Martins M, Matos M, Mollergard HM, Nobili F, Öhrfelt A, Parnetti L, de Oliveira CR, Rot U, Sáez-Valero J, Struyfs H, Tanassi JT, Taylor P, Tsolaki M, Vanmechelen E, Verbeek MM, Zilka N, Blennow K, Zetterberg H, Mollenhauer B. Validation of a quantitative cerebrospinal fluid alpha-synuclein assay in a European-wide interlaboratory study. Neurobiol Aging. 2015 Sep;36(9):2587-96.
Jadhav S, Katina S, Kovac A, Kazmerova Z, Novak M, Zilka N. Truncated tau deregulates synaptic markers in rat model for human tauopathy. Front Cell Neurosci. 2015 Feb 23;9:24.
Kazmerova Z, Zilka N, Cente M, Neradil P, Zilkova M, Novak M. Can we teach old dogs new tricks? Neuroprotective cell therapy in Alzheimer's and Parkinson's disease. J Alzheimers Dis. 2013;37(2):251-72.
Levarska L, Zilka N, Jadhav S, Neradil P, Novak M. Of rodents and men: the mysterious interneuronal pilgrimage of misfolded protein tau in Alzheimer's disease. J Alzheimers Dis. 2013;37(3):569-77.
Jadhav S, Zilka N, Novak M. Protein truncation as a common denominator of human neurodegenerative foldopathies. Mol Neurobiol. 2013 Dec;48(3):516-32.
Zilka N, Kazmerova Z, Jadhav S, Neradil P, Madari A, Obetkova D, Bugos O, Novak M. Who fans the flames of Alzheimer's disease brains? Misfolded tau on the crossroad of neurodegenerative and inflammatory pathways. J Neuroinflammation. 2012 Mar 7;9:47.